South Kesteven ARS competed for the first time in the RSGB Field Day Contest in September.
The idea of  field day operation is to set up an effective radio station under emergency or 'field' conditions, with no more than 24 hours' preparation. The station is not be reliant on an existing antenna, nor have a permanent building from which to operate, and cannot use mains power. Field day operation also gives a chance to operate from a well-sited location, which may be on top of a hill and which will be away from sources of interference and TVI hassles.
The contest started at 13:00UTC on Saturday 2 September and ran for 24 hours until 13:00UTC on Sunday 3 September.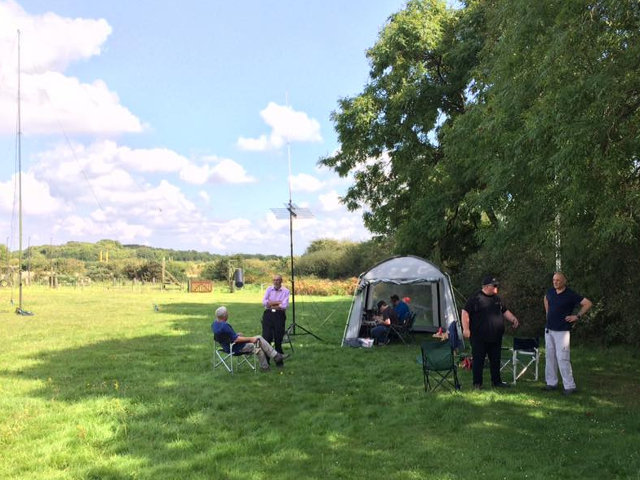 Having secured a suitable site near Ancaster the SKARS team setup camp, several members bringing along tents to sleep in, camping stoves and gas bottles to make vital supplies of tea, coffee and to cook breakfast.
The radio station was setup in a day shelter tent with camping tables and chairs.
Equipment was rudimentary consisting of a Yaesu FT-450D running at 100W PEP, connected to an Off Centre Fed Dipole suitable of 80, 40 and 20m The antenna supported on a 12m high Racal mast the short leg supported by another mast, the long leg running down to a nearby fence.
Darren M0PYU, Adam M6OLT and Mick G7TGL also setup a VHF station on the Saturday to take part in the VHF Trophy Contest which was also running that weekend.
Power was supplied by a petrol generator with several 12V leisure batteries on standby if required. The generator allowed the use of a laptop running the N1MM+ logging software with CAT interface and some small lamps were used to provide illumination during the night.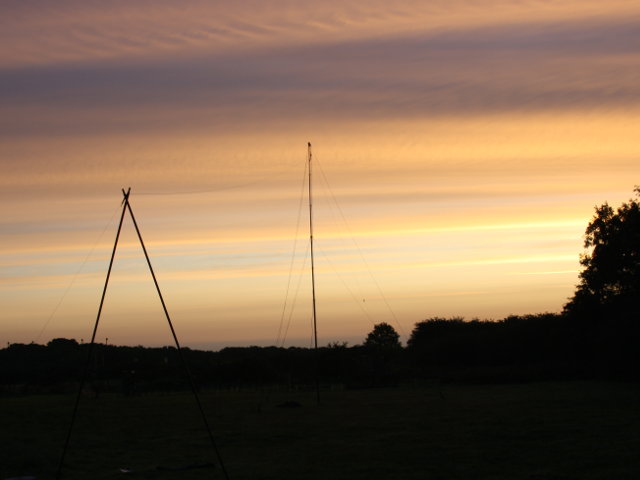 Stewart M0SDM, Sean 2E0ENN and Andrew M0NRD along with Stewart's son camped overnight with other members visiting during the weekend, we also had a number of local amateurs come to say hello.
In the end we made a modest 305 contacts on HF being forced to get some shut-eye during the night.
It was an excellent adventure and great fun, most of us hadn't camped out in years.